Hair Loss and Thinning Hair Are Issues for Women of All Ages
Survey:
37% of U.S. Women Currently Experience Signs of Hair Loss or Thinning
— Many More at Risk
Hair loss issues affect more women than one might think. Nearly 2 in 5 (37%) U.S. women 18+ have noticed signs of hair loss or thinning, and that number jumps to 60% among women 65+, according to a new survey by a third party Market Research Agency for Keranique. These include: their hair being thinner than it used to be (24%), hair loss (15%), seeing their scalp where they couldn't before (14%) and their hairline receding or thinning in the temples (10%).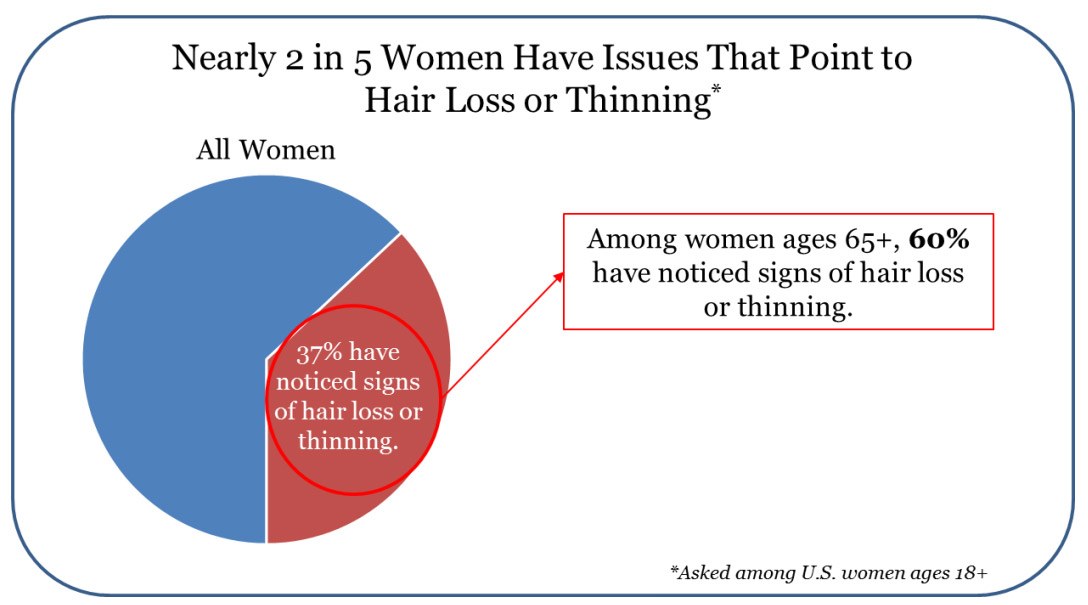 And many could be at risk for future issues. 62% of women have noticed changes to their hair just in the past year. These include: their hair not being as thick and full as it used to be (28%), their hair never looking the way they want it to (27%), their hair breaking off more easily than it used to (21%) and more hair coming off in or on their brush, drain, clothing or pillow (20%).
Unhealthy Hair Habits. It also doesn't help matters that a majority of women (78%) have done or experienced things that can eventually lead to hair loss or thinning issues. These include: having color treated or highlighted their hair (47%), feeling more stressed than usual (33%) and having been ill or taking medicine (23%).
Head in the Sand. Thinning hair or hair loss aren't topics many women like to talk about. In fact, 85% of women experiencing hair loss don't talk to their doctor or dermatologist about it, and 66% don't talk to their hair stylist.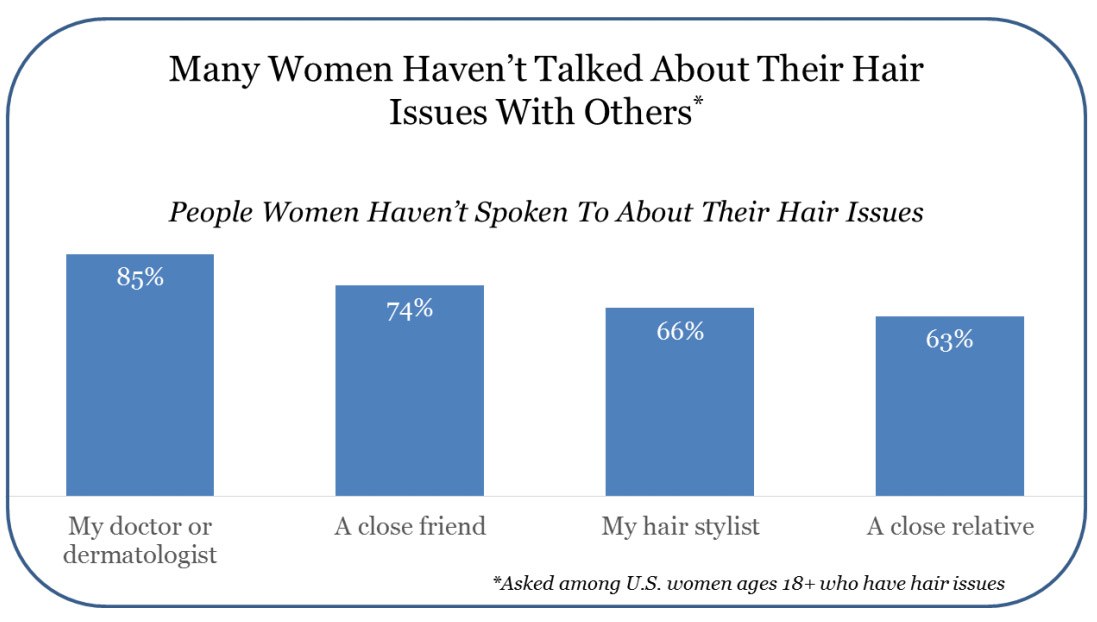 Unflattering Perceptions. Thinning hair can send the wrong message to others. In fact, 81% of women feel that thinning hair affects a woman's appearance in a negative way. 55% feel it makes a woman look older, 43% less healthy and 32% less confident.
Desire for Change. And women say the way their hair looks does impact how they feel. In fact, nearly all (98%) feel more confident when their hair looks great. But most (86%) also wish there was something they could change about their hair. This includes: making it healthier (43%), having it be thicker and fuller (43%), making it shinier (30%) and having it grow longer (25%).
Longing for Better Locks. Women are willing to go to great lengths to achieve these changes, too. 83% would give up some luxury for a month in return for more beautiful hair. This includes going out to eat (41%), chocolate (36%), shopping (33%), coffee (32%) and sex (26%).
Hair Dresser. There are many reasons why women are willing to give up so much for better-looking hair, and one is that it would make wardrobe decisions a little easier. 67% of women feel that if your hair looks great, it doesn't matter what you're wearing.
Ready to Regrow Thicker, Longer, Stronger, Healthier Hair?
Keranique®
Hair Regrowth System
Order Now!
Includes Auto Delivery
Your Keranique® Regrowth System Includes:
Keranique® Revitalizing Shampoo
Keranique® Volumizing Conditioner
Keranique® Hair Regrowth Treatment
Keranique® Lift & Repair Treatment


PLUS TWO BONUS GIFTS!
BONUS Keranique® Hair Detangling Tool
BONUS Keranique® Hair Defense Brush