Perimenopause brings women so many wonderfully precious side effects … weight gain, trouble sleeping, mood swings, erratic periods, acne, and hair loss.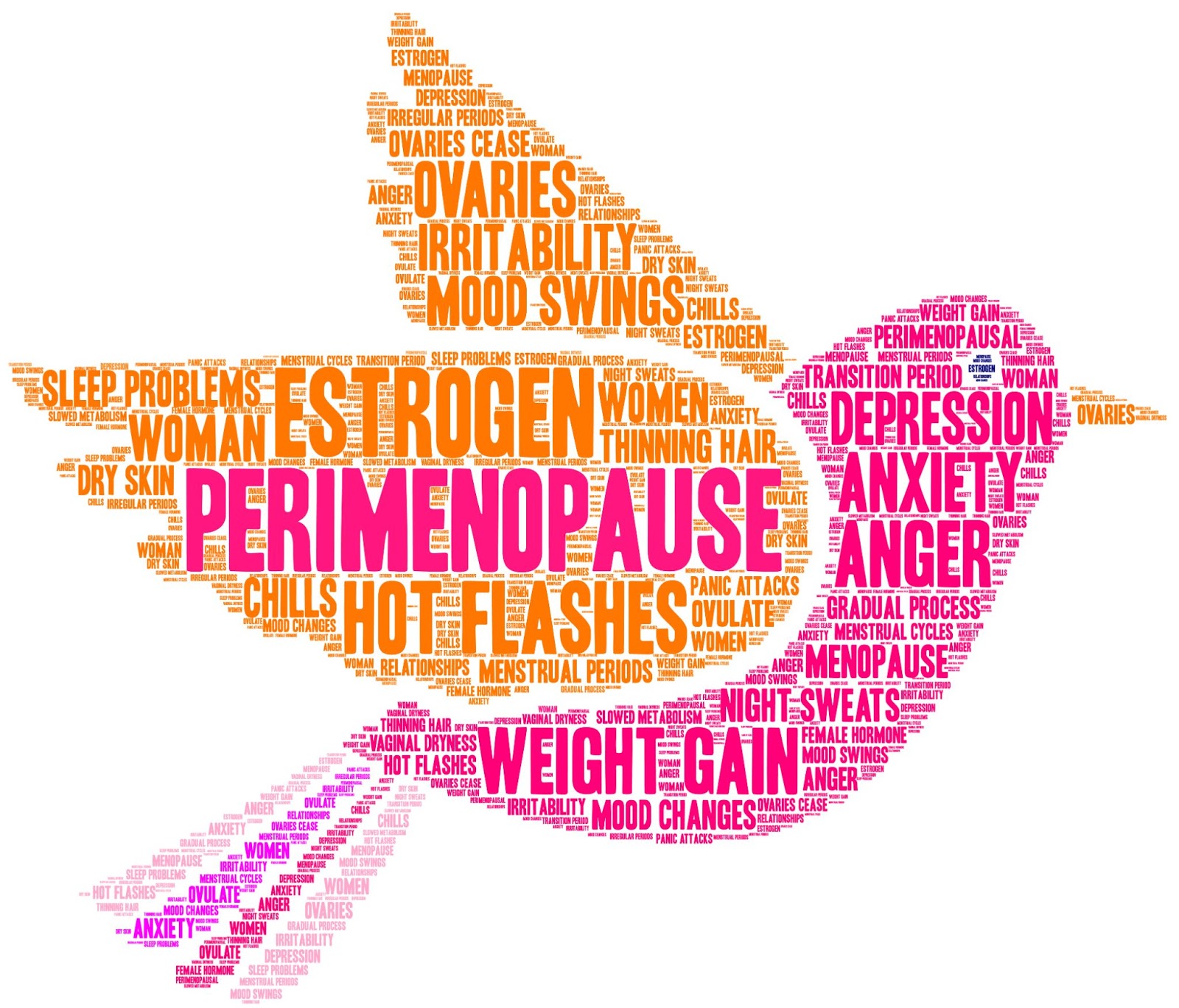 Some of you already know what I am talking about. You hit some not-so-magic age and noticed that you're shedding. It isn't the typical shedding. It's the kind of shedding that startles you when you look at the floor of your shower because you think a small animal has died in there with you.
That is a hairball. It's a hairball made of what used to be your luscious locks. Yep. You're losing your hair.
Some of you are too young for perimenopause. (Just wait. It's coming.) You may have had a baby, or lost a job, or your partner is very sick … You have been under extreme stress.
Then, voila. Life gets better. A few months later you notice your ponytail is shedding. Within a few more weeks, you realize that your ponytail is smaller … and your hairline is receding.
Awesome. Now you feel like a man who needs your own personal hair club.
The ugly truth is that women lose their hair in noticeable amounts every day. And it stinks. Most of us are not going to grab the clippers and go for a buzz cut. Sinead O'Connor may be able to pull that off, but most of us want to fight tooth and nail to rebuild our manes.
So we start surfing the web and scouring Pinterest, looking for ways to reverse the hair loss. And what do we find? Vitamins and supplements that are said to help with hair loss.
But …
Can Vitamins Help With Hair Loss and Give You Thicker Hair?
The short answer is yes.Taking the right vitamins can help your hair to grow back in and become thicker. Now you just need to figure out which vitamins will actually do it for you.
Vitamins are usually taken orally and are absorbed through the bloodstream. As the blood travels through the body, it basically feeds the supplements to all of our cells. The most widely-known vitamins we need are vitamin B12, iron, omega-3's, selenium, vitamin D, magnesium, Vitamin A, the other B vitamins, and zinc.
What Are the Roles of Hair Supplements?
The answer to that question is subjective because it is entirely dependent on the individual supplement. Some supplements help our bodies deal with stress, others fight off free radicals or reduce inflammation, while another aim of supplements is to counteract the effects of hormones.
And then there is the use of supplements to literally supplement because our bodies are deficient in that particular vitamin or mineral.
When Will the Supplements Begin to Show Results?
There isn't one standard answer to that question. The length of time it takes varies from supplement to supplement and person to person. You don't know how each of the supplements will react with each person.
What if I have a Vitamin Deficiency?
First of all, you need to know if you actually have a vitamin deficiency. You probably have signs or clues that something is going on. You may have nosebleeds, bleeding gums, headaches, rashes, fatigue, depression, dry eyes … The list of symptoms goes on.
To make a true determination about a vitamin deficiency, you need to have blood work done. Chances are that you don't have a deficiency because it's pretty unusual for people who eat a fairly balanced diet. If you're a vegan or avoid the sun, that's a different story!
What Are the Best Supplements to Improve Hair Loss?
There are so many different choices out there. Some of you probably don't know where to begin. You're in luck! We've compiled a list of the supplements that work best for hair loss. Here they are …
Vitamin D3
Vitamin D3 deficiency is a major culprit in thinning hair. This supplement is a key component needed for producing new hair follicles. But vitamin D won't do the job on its own. You need to take it in conjunction with one of the other multi-vitamins in our go-to list.
Biotin
Biotin is in the B vitamin family. It helps with the healthy growth of nails, skin, and hair. It dissolves easily in water and breaks down carbohydrates and fats. Biotin will make your hair grow faster, but doesn't encourage thickness. You'll find it in various hair supplements.
Philip Kingsley Tricho Complex Hair Nutrition Formula
This multivitamin contains vitamins C, D, and B12, as well as biotin, iron, and L-lysin. Take two tablets a day to notice results in about three months.
Nutrafol
Nutrafol is a botanically-based hair formula that contains ashwagandha, biocurcumin, and vitamin E to help reverse thinning hair. If taken faithfully, users report increased hair growth, longer hair, and thicker hair within about three to six months.
Nutrafol helps to ward off free radicals and inflammation that reduce the functionality of hair follicles. At the same time, it encourages the absorption of the nutrients that fortify hair.
OUAI Thinning Hair Supplement
Cortisol is a stress hormone that can be responsible for your hair falling out. OUAI has ashwagandha to help control the production of cortisol. Vitamins E and C are the ingredients that work to stop hair loss.
It also contains biotin to encourage hair growth and amino acids for producing keratin. Keratin is the main protein within the structure of the hair.
The crazy thing about OUAI is how it keeps your hair from being so oily by incorporating niacin and evening primrose in its components. That means you don't have to wash your hair as often in order to avoid that stringy look. Not washing as often leads to hair with more moisture and less damage.
Movita Organics
Movita Organics makes their multivitamin out of fermented superfoods. By doing this, they minimize potential tummy troubles. Movita incorporates antioxidants with biotin and turmeric to improve the hair from the inside out.
This is a great choice if you want to go allergen free and organic.
Physician's Choice Total Hair
The name says it all. Total Hair was created to diminish hair loss and encourage healthier, thicker hair. Its formula contains zinc, bioperine for absorption, vitamin A, vitamin C, vitamin B6, vitamin D, soluble keratin, biotin, and EVNolMax (their version of vitamin E).
Viviscal Extra Strength Dietary Supplements
Viviscal uses vitamin C, iron, horsetail extract, biotin, zinc and a marine complex to lengthen the growth phase of the hair. Within about three months, using Viviscal has been shown to increase the volume of the hair and greatly reduce the amount of hair falling out.
The other selling point for Viviscal is that it reduces those frizzy ends that look terrible and break off.
Moon Juice
With a name like Moon Juice, it's at least worth checking out! Moon Juice supplements are created to aid in controlling cortisol. Cortisol is the stress hormone that is the main culprit for thinning hair and loss of hair.
Moon Juice uses ashwagandha and ginseng, in addition to micronutrients, minerals, and vitamins to champion the growth of healthy hair while helping to control that troublesome cortisol.
OLLY Undeniable Beauty Gummy Supplement
OLLY blends keratin, biotin, vitamin C, and vitamin E. The vitamins C and E fend off free radicals that damage hair follicles. The biotin component stimulates hair growth. It's a great combination for producing healthy hair.
Nature's Bounty Optimal Solutions Hair Skin & Nails Extra Strength
Once again, we bring you a supplement with multiple beneficial ingredients. It has vitamin E, vitamin C, and biotin. People who have used this product report a major reduction in hair loss after using the product religiously for only three weeks. This supplement is known for improving hair's elasticity and strength.
Love Beauty and Planet
If you're a vegan, these gummies may be your favorite choice to help your thinning hair. You can find these affordable gummy vitamins at Target. These are made up of vital micronutrients iodine, folic acid, vitamin B12, vitamin D, and biotin.
What do those ingredients have to do with the planet? Absolutely nothing. The bottle is made of recycled plastic. That makes it planet friendly.
HUM Nutrition – Hair sweet Hair
Take your hummies twice a day for longer hair that keeps its color. HUM's berry-flavored, vegan gummies contain folic acid and biotin, as well as two little special ingredients: PABA (encourages hair's natural pigmentation and wards off the grays) and fo-ti (a Chinese root that strengthens hair … ancient Chinese secret, huh?). And, hey … they're gluten free!
HUM Nutrition Red Carpet Skin and Hair Health Supplement
Just in case you are not in love with the idea of chewing gummies, HUM offers you a softgel supplement. Within that little softgel you will find black currant seed oil, antioxidants, and vitamin E—all of which are said to foster healthy hair. The antioxidants used by HUM are known for their moisturizing properties, as well.
SugarBearHair Women's Multivitamin
The Kardashians have encouraged the popularity of these tasty chews. Vitamin C, biotin, folic acid, and coconut oil are the main ingredients. Beauty connoisseurs all over social media are posting their pics with before-and-after results. The pics speak for themselves which is why so many people are trying these vegan chews.
Vital Proteins Hair Boost
Most of us associate Vital Proteins with powdered collagen. The over-forty crowd takes collagen to help with various signs of aging … One of which is thinning hair. Vital Proteins has created a supplement that has been shown to grow stronger, longer hair in only a couple of weeks.
They use zinc, amino acids, ashwagandha, biotin, and saw palmetto to prevent hair loss that has been caused by nutrient deficiency or stress.
Matrix 5000 by Elon
This multivitamin contains l-cysteine, silicone dioxide, and a good amount of biotin. This combination of ingredients is what helps to strengthen hair to reduce breakage and encourage growth.
You should see results after taking these supplements once per day for about three months.
Sports Research Biotin Infused with Organic Virgin Coconut Oil
This supplement hails as one of the most popular choices for biotin found on Amazon. People report that this softgel starts showing results in as few as two weeks. New hair growth and reduced hair loss are the main benefits of this biotin infused with coconut oil.
NutraChamps HairFlair
You can find HairFlair on Amazon with high ratings. Two capsules each day provides its users with an adequate amount of collagen, zinc, keratin, B vitamins, and biotin. Each of these ingredients is known for encouraging healthy hair.
One A Day Women's Prenatal 1 Multivitamin
This one may throw you off … especially if you're not preggers! The truth is that prenatal vitamins are fantastic for your hair, skin, and nails. A good prenatal vitamin is full of iron, biotin, and all the other nutrients our bodies need to encourage hair growth. Being low in iron is often found to be the reason for thinning hair.
Vitafusion Gorgeous Hair, Skin & Nails Multivitamin
Vitafusion makes delicious gummies. It's no surprise that their hair-boosting gummies made our list. They are infused with zinc, folate, biotin, vitamin C, and vitamin E. Users report that these gummies bolster the way their hair looks and encourage its growth.
Briogeo B. Well Vegan Omega 3, 6, 9 + Biotin Supplements
Sephora shoppers love this supplement. Briogeo makes this vegan-friendly supplement from biotin, ahiflower, and an algae-derived omega-3 complex. Some users actually notice a difference in their hair after just one week. It decreases hair fall, so thickness improves.
Nature Made Multi for Her Softgel
You can easily find this multivitamin at a local big-box grocery store. Many dermatologists believe that taking a basic multivitamin can stimulate hair growth. Multivitamins are typically made up of zinc, iron, vitamin C, vitamin D, and biotin. All of these ingredients are good for hair.
Naturenetics HairAnew
Again, we have a product loved by Amazon users. HairAnew is sugar-free, soy-free, gluten-free, and vegan. The list of ingredients include niacin, vitamin B6, zinc, vitamin E, and vitamin B6.
Keraviatin
Last, but most certainly not least, is Keraviatin, the supplement for hair loss created by Keranique. Obviously, we love Keranique supplements. Keraviatin combines B vitamins, zinc, amino acids, biotin, niacin, and antioxidant cucuminoids to pack a powerful punch in the fight against women's hair loss.
The amino acid cystine is a building block of protein that maintains the structure of proteins throughout the body. It is vital for growing healthy hair.
Keraviatin encourages hair growth and increases the thickness of the hair. By taking two capsules a day, users see results within about three months.
When you combine Keraviatin with the hair care products, you have a powerhouse combination for combatting hair loss and finding yourself with longer, stronger, thicker hair.
Keraviatin's approach includes easy to use, effective treatments that promote the Strength, Growth & Beauty of Hair. We've coupled this with a connective community that serves and supports women as she addresses her hair health needs.
Click here to learn more about Keraviatin and order this amazing supplement for the good of your hair.
Please SHARE with your friends and family who may be interested in Keraviatin and want to learn more about how it works!
Please Take Care of Your Hair and Don't Forget to Take Care of You!