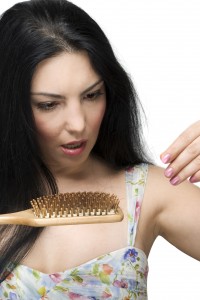 Styling my hair is something I've always enjoyed doing. That was until I noticed my usually full hair becoming increasingly thinner. Although aware that it's common to lose between 50 and 100 strands of hair each day, I found the amount of thinning I experienced to be quite alarming. But I'm not alone. As many as 60 percent of women will experience some type of hair loss in our lifetime. Fortunately, 8 in 10 women can experience regrowth if immediate action is taken. Here are some ways to effectively prevent or reverse hair loss and thinning.
Diet and Nutrition
Adequate iron intake is essential for growing and maintaining healthy hair. If you live a vegan or vegetarian lifestyle, or suffer from anemia, it's important to make iron-rich foods a part of your daily diet. Eat foods that are high in iron, such as spinach, collard greens, kale, beans, liver, lean red meat, tofu, egg yolks and raisins.
Oil Massage
Nothing increases blood flow and circulation to the scalp better than a great massage. And since many dermatologists believe regular scalp massages infuse nutrients into the hair follicles responsible for thinning hair, you have a great reason to spend several minutes daily making your scalp feel good. Apply a natural oil like coconut, vitamin E, argan or extra virgin olive oil to your hair, and use the pads of your fingertips to work the oil into your scalp.
Styling Products
Although most styling products typically cannot help you regrow hair, many can prevent breakage and thicken hair. Look for products specifically formulated to help with thinning like Keranique Solution for Women. Keranique is also sulfate free which is great for reducing the stress on your hair follicles. You should also limit your use of heat styling tools which can impede hair growth and cause thermal damage.
To learn more, visit Keranique, at HSN.