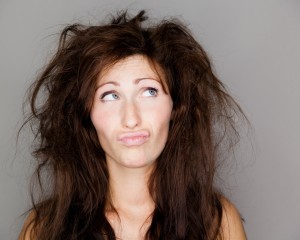 Unless you're one of those women with perfect, flawless hair, you've probably experienced your share of hair problems before. Whether your issue is dandruff, split ends, dryness, frizz, or limpness, there's a cure for these common hair woes.
Dandruff – As if the excessive itching weren't bad enough, flaky white scales are also characteristic of this common scalp condition that affects women of all ages and ethnicities. Since dandruff is largely caused by an overproduction of skin oil, the best way to treat it is by getting rid of excess oils on the scalp and killing dandruff-causing yeast. Besides switching to a dandruff shampoo, you can rinse your scalp twice weekly with a can of warm beer, or with a mixture of 1 parts apple cider vinegar and 3 parts warm water. The acid in both the beer and apple cider vinegar cleanse your scalp and kill the yeast. Rinse your hair thoroughly with cool water to remove the scent of the apple cider vinegar/beer from your hair. Massaging your scalp regularly with pure lemon juice or extra virgin olive oil is also effective in treating dandruff.
Split Ends – If you have thin or fine hair, you're likely to experience split ends from the typical wear and tear you put your hair through. Despite what many products claim, there is no magic cure for split ends. The only way to eliminate them is by cutting them off. If you're not ready to chop your split ends off, use a conditioner or styling product that contains silicones to temporarily seal split ends and make them less noticeable.
Dryness – Whether you suffer from dry scalp or dry hair, restoring moisture to your scalp and hair can prevent hair breakage and damage. Trade in your alcohol-based products for cream and oil-based products. Cream-based styling products moisturize dryness, while natural oils like coconut, olive, jojoba and lavender seal in moisture and repair damaged hair. For maximum results, apply natural oils to your hair and cover your hair with a plastic cap for about 20 minutes.
Frizz – If you thought saying goodbye to summer meant saying goodbye to frizz, think again. Where there is humidity, frizz is likely to follow; especially if you have fine or curly hair. One of the best ways to tame frizz is by using a sulfate free shampoo like Keranique Scalp Stimulating Shampoo. You can also lower pH levels that cause frizz by rinsing your hair a few times weekly with sparkling water. Rinsing your hair with a can of warm beer can also replenish your hair's natural moisture and reduce frizz. Other ways to fight frizz includes conditioning your hair regularly, using a microfiber towel to dry your hair, and brushing your hair with a vented brush.
Limpness – If limp hair is weighing heavy on your mind, it may be time to examine what's weighing heavy on your hair. One of the most common causes of limp hair is oil and product buildup. Wash your hair several times monthly with a clarifying shampoo to remove excess oil and product buildup from your hair. Another option is to add a tablespoon of baking soda to your regular shampoo. If your limpness isn't caused by product buildup, consider switching to volumizing shampoos and styling products. Using keratin based conditioners also give limp hair more fullness and body, making hair appear thicker. You can also make a homemade thickening mask for your hair by combining equal parts eggs, avocado and banana. Apply the mixture to your hair and cover your hair with a plastic cap. After about 20 minutes, wash your hair thoroughly with shampoo and cool water.
To learn more, visit Keranique, at HSN.