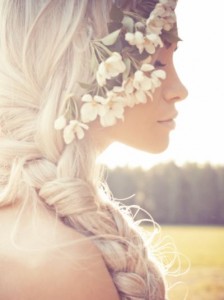 Summer means hot days at the beach, or poolside, soaking up the sun. Lazy summer days can be great for your mind, but will wreak havoc on your hair. But you can enjoy summer without your hair paying the price with just a few tricks. Read on for summer's worst hair offenders, and what you can do to combat them. With these tips, you can have a summer glow and healthy hair all season long.
Saltwater
There was a placard that hung in the beach house we rented a couple summers ago that comes to mind whenever we're at the beach. "We're at the beach & that's enough." This whimsical saying is such a great reminder how amazing it is to sink into that salt water and sand, but while the beach is "enough," you may want to come prepared.
The water content in your hair is what makes it soft and pliable. The salt content in ocean water makes it "osmotic," or in other words, it sucks water out of things. Hair meets salt water, and you get the picture, it sucks the water from your hair, leaving it dried out and brittle.
Before hitting the waves, apply a leave-in spray conditioner to act as a shield. Throw it in your bag and reapply throughout the day. To help your locks recover from the surf, follow up with a conditioning treatment that's rich in moisture to nourish and revitalize.
Sunshine
Nothing means summer more than an ample dose of sunshine. But while we're all familiar with the potentially harmful effects of the sun on your skin its easy to forget that our hair can suffer damage from the UV rays as well.
UVA and UVB rays start to breakdown cysteine, which is an important part of the proteins that build your hair strands. When these bonds are weakened, it can result in brittle strands that are then susceptible to more damage and breakage from styling and hair coloring. And for those that spend time and money in the salon getting their perfect hair color, it's also important to keep in mind that the sun is one of the quickest ways to fade your shade.
The easiest and most effective way to protect your hair is to wear a hat. Plus a cute hat saves you from messy beach hair and adds something to your summer style. But a hat isn't always the most practical solution, so it's a good idea to also have back up protection. Be sure to spray your scalp with sunscreen and coat your hair with a sun protection spray that can block UV rays for the ultimate in hair protection.
Chlorine
Chlorine is possibly the harshest summer culprit. It can not only turn blonde hair a shade of green, but also sucks out your strand's natural oils. When the cuticle (outer layer of your hair) is deprived of the oil that makes it moisturized and pliable, it is susceptible to cracking, making the cortex (inner layer) vulnerable to damage.
The most obvious step in protecting your hair is to use a clarifying shampoo following a swimming session. A clarifying shampoo can be drying, so be sure to follow up with a nourishing conditioner, but a good wash is an important step to take to kick that chlorine out of your hair following a dip in the pool.
But more than just washing hair following a swim, there are steps you can take before you step into the pool. If nothing else, saturate your hair with tap water before taking a dip. If your hair absorbs tap water, it will absorb less chlorinated water from the pool. It's also a good idea to coat your hair with a creme based leave in conditioner, and wrap it in a bun or tuck it in a swim cap.
There's no need to avoid the things you love about summer. But with these tips you'll be sure to get a head start on keeping your hair healthy while enjoying all the fun things the season has to offer.
To learn more, visit Keranique, at HSN.