Keranique Frequently Asked Questions
.

Is there anything else I should do while using Keranique®?

We know that you're going to love the results you experience with continued use of Keranique®. Simply use the products as instructed to see visibly, thicker-looking hair.

How do I use Keranique®?

Keranique is your advanced solution for thinning, flat, lifeless hair in women. Engineered specifically for women, these products deliver outstanding results for all hair types. The Keranique Regrowth System follows a simple three step process: Cleanse & Condition, Regrow and Treat.

Step 1: Cleanse with Revitalizing Shampoo. For deep hair cleansing, the Revitalizing Shampoo offers you everything you need. Many women suffer from thin or thinning hair simply because their hair follicles are clogged. When pores on the scalp get blocked by excess product buildup, your follicles will have trouble producing healthy hair.
With the vitamin-enriched and antioxidant-infused shampoo, your scalp will never feel cleaner. Keranique is formulated to deep clean not only your hair itself, but also the roots and follicles which produce new, healthy hair.

Condition with Volumizing Conditioner. After your hair is clean, it must also remain protected and fortified throughout the day. The Volumizing Conditioner is enriched with a hydrolyzed keratin compound. This creates a barrier between your hair and the environment. The Volumizing Conditioner also helps protect hair against problems like humidity, heat, and moisture affecting your hair.

Step 2: Treatment for Hair Regrowth. The treatment stage of Keranique can vary based on your individual needs. For women with thinning hair, the Hair Regrowth Treatment will produce the best results. This kit includes the Keranique Minoxidil hair regrowth treatment specially formulated with the only FDA Approved Hair Regrowth Ingredient for Women.

Step 3: Lift & Repair Treatment Spray. This easy to use styling spray adds instant volume, lift, fullness, body and bounce. Use it for blow drying, holding and setting, protecting, adding volume, lifting, controlling, and finishing any style. Makes fine, thinning hair look and feel thicker. Keranique's® Amplifying Lift Spray lifts and holds thinning hair - even in high humidity - for lasting volume and fullness. Using fingers, distribute product from roots to ends. For added lift and volume, blow dry hair using medium setting turning head upside down and using fingers to open up sections while blow-drying hair. Increase number of sprays for added lift and expansion. Continue to blow dry until completely dry.


When will I see results?

Your hair will feel silkier and shinier as soon as you start using the Keranique Shampoo and Conditioner. Your scalp will feel invigorated, and with each use, you will be improving the health of your hair. Hair regrowth takes time and requires patience. Continued use for at least 4 months is usually needed before you start to notice regrowth. In the meantime, our other products in the Keranique system start working immediately to help repair and prevent further hair damage. With use, during the first two months, after beginning the treatment, you may lose or shed a little more hair than usual. Note that this is part of the process; it indicates that the follicles are making way for new, healthier hair growth. Remember to keep using the Hair Regrowth Treatment every day, twice a day. Important to note: everyone is different. Some users notice some results in 2 to 4 months, but to see best results, it can take from 6 months up to a year.

I've seen hair regrowth; do I need to continue using the treatment?

Continued use of the Keranique System is needed to maintain your new hair growth. Without consistent application of the Keranique Hair Regrowth Treatment for Women, the normal hair loss process will resume in 3 – 4 months. Visible volume and healthier looking hair can be yours with consistent use of the entire Keranique System.

What are the principal factors that cause hair loss?

There are a host of factors that influence hair growth and cause hair loss. The #1 reason for hair loss for both men and women is heredity or genetics. For women, hormonal changes, stress, changes in diet or a lack of nutrients, over-styling with hot tools, extensions or weaves, inflammation and aging are all factors that can trigger hair loss, and make it worse.

How does hair grow?

Hair loss and hair regrowth differ by individual. Hair grows from a specialized sac in the skin called a follicle. There are four distinct phases of growth. The Anagen phase is an active growing phase. It lasts for up to two to seven years. About 85% - 90% of hair is found in this phase at any given time. The Catagen phase is a transitional phase that typically lasts for approximately two to four weeks. During this stage, the hair follicle begins to shrink. The Telogen phase is considered a resting phase and it lasts about three months. During this stage, as the existing hair is in a resting state, a new hair enters the Anagen cycle and begins its growth. In the Exogen phase, as a new hair grows, the old hair is shed.

How common is hair thinning or loss in women?

It's extremely common, and likely more prevalent than you think. According to the American Academy of Dermatology, approximately 30 million women in the U.S., or one in four adult women, experience hair thinning or loss. Once a woman reaches the age of 50, she's 50% more likely to experience this issue.

What are the options for women?

If the hair loss is severe, and surgical treatment is considered, those options are limited. While 95% of men are good candidates for hair transplants, fewer than 5% of women qualify for transplants. Injections can be an option but are painful and expensive. The best course of action is prevention and treatment. It's important to address early for the best results.

How do I know if I am experiencing normal hair loss, or something more?

There are approximately 100,000 hairs on your head. You lose, on average, approximately 100 hairs per day. If you find you are losing more than this, and for an extended period, you should consider identifying the cause, and then using a solution-based approach to stop the loss and maintain the hair you still have in good condition.

Should I use Keranique every day?

The more you use the products the better results you will experience. Please refer to the application guide for directions. We also recommend that for best results you keep to the Keranique line of products.

How is women's hair loss different than men's hair loss?

Women don't lose hair the same way as men experience predictable male pattern baldness; when hair thins for women, it generally thins in a diffuse pattern all over the head. This makes determining loss more difficult and as a result, treatment is often delayed. By the time it's noticeable, up to 50% of hair may already be lost.
Keranique®
Hair Regrowth System
Try It Risk-Free Today!
Your Keranique® Regrowth System Includes:
Keranique® Revitalizing Shampoo
Keranique® Volumizing Conditioner
Keranique® Hair Regrowth Treatment
Keranique® Lift & Repair Treatment


PLUS FREE BONUS GIFT!
Keranique® Hair Detangling Tool
Shipping & Processing Special Discount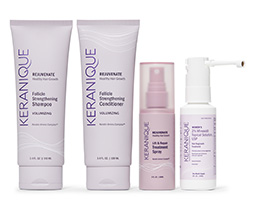 Try It Risk-Free!
Pay Only S&P Today! Your Keranique® System Includes:

Keranique® Revitalizing Shampoo
Keranique® Volumizing Conditioner
Keranique® Hair Regrowth Treatment
Keranique® Lift & Repair Treatment

PLUS 2 FREE BONUSES!

Keranique® Hair Detangling Tool
Shipping & Processing Special Discount
Order By Phone1-888-301-4362

30 Day
Money-Back Guarantee
Keranique® Hair Regrowth System is CLINICALLY PROVEN and designed for women's unique hair needs. We know you'll love it, but if for any reason you're not completely satisfied, just call within 30 days of receipt, return the product as instructed, and you'll get a FULL REFUND of the purchase price (less s&p), even if the products are empty. Click TRY IT NOW to learn about our Special Risk-Free Offer!